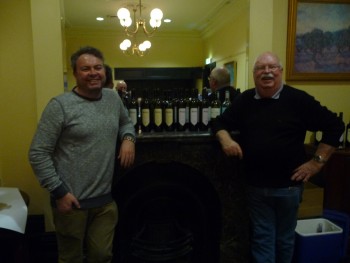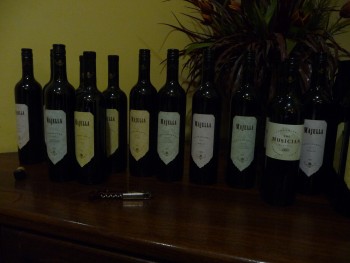 Last month the Adelaide Fine Wine Appreciation Club (AFWAC) was very fortunate to have both Brian & Peter Lynn from Majella present wide selection of their wines. The timing of the meeting coincided with a final look at their current wines before the new vintages are launched in a few weeks, which along with a number of back vintages contributed to a couple of mini-verticals. The wines were opened at the beginning of the night, and as usual were served in the club's XL5 standard glassware.
Anyone interested in future AFWAC events can email the club at:
afwac365@gmail.com
or check out the club's facebook page:
https://www.facebook.com/AdelaideFineWi ... iationClub
NV Majella Minuet Sparkling Riesling, Coonawarra (crown seal):
11% alc. Very pale straw with a good mousse and bead. Dry and crisp, green apple and apple cider with just a little toast and bready characters beginning to appear on the finish. A relatively young blend, but it's already beginning to show some complexity that wasn't there in the very first bottlings; hopefully this should continue as additional/older vintages make greater contributions to the blend.
2014 Majella Melody Rosé, Coonawarra (screwcap):
13% alc. Medium to dark pink. Bright and fruity, raspberries and Turkish delight, rosehip and a little caramel, slightly yeasty at times with a viscous texture and light finish. A light, fruity style, best for summer.
2013 Majella Riesling, Coonawarra (screwcap):
12% alc. Very pale green/straw. Waxy and pithy nose, a little kerosene and lanolin already, then apple and lemon; the palate's very approachable with soft, crunchy acidity, more Great Southern or Eden Valley like than say Clare, finishing long and crisp. I get the feeling this may be an early developer, even though Majella Rieslings do a history of ageing gracefully.
2012 Majella Merlot, Coonawarra (screwcap):
14.5% alc. Medium to dark red/purple. Dusty and perfumed, full of sweet cherry, plum and some strawberry; a soft entry leads to a very dense mid-palate with big chalky tannins and bright acidity on the very long finish. I loved this wine when it was first released, and still do – I'm surprised it doesn't get more attention, as this is a remarkably good example of the varietal.
2005 Majella Merlot, Coonawarra (screwcap):
14.5% alc. Medium to darkish garnet/brick. Very savoury, stocky, smoky and heavily developed, smoked meats, saddle leather, cedar and black liquorice, the palate medium-weight and spicy with good length. Peter wasn't happy with the bottle saying it was overdeveloped and not representative, and asked everyone to tip out his or her glasses for the following replacement wine.
2010 Majella Merlot, Coonawarra (screwcap):
14.5% alc. Medium to dark red/garnet. Very smoky, meaty and savoury, bitter chocolate, sour plum and cedar matched to softer tannins than the 2012 vintage; it's fleshing-out mid-palate, finishing dry and very spicy. A powerful vintage, but I prefer the elegance of the 2012 in direct comparison.
2013 Majella The Musician, Coonawarra (screwcap):
14.5% alc. 60% Cabernet Sauvignon, 40% Shiraz. Medium to darkish purple/red. Dusty nose with plums and cherries backed by subtle, cedar oak, the palate quite chalky and medium-weight with more obvious minty Cabernet influences, finishing long and chalky. A pretty wine, it's lighter in weight and will develop quicker than the 2012 vintage but still punches well above its weight.
2012 Majella Shiraz, Coonawarra (screwcap):
14.5% alc. Medium to dark red with a hint of purple. Gloriously young and attractive with sweet raspberries, mint and cherry backed by spicy/cedar oak, a little red liquorice and sandalwood with breathing; the medium to full-weight palate's excellently balanced with fine chalky tannins and excellent length. One of the best vintages ever released, this is so enjoyable to drink now but will also keep for well over a decade.
2009 Majella Shiraz, Coonawarra (screwcap):
14.5% alc. Medium to darkish crimson/red. This wine is a contrast to the surrounding vintages, with more obvious earthy/spicy French oak compared to the sweet fruit of the 2012 vintage and American oak of the older 2000 vintage. It's earthy, smoky and sooty with quite savoury/spicy/charred oak characters matching tarry sarsaparilla fruit and quite grippy tannins; it has a fat mid-palate, but is also very dry and a little awkward, possibly in a transition phase.
2000 Majella Shiraz, Coonawarra (cork):
13.5% alc. Medium to very dark garnet. I tried the 2001 vintage a few weeks prior and this has notably less vanillin oak influences, it's earthy and slightly leafy with menthol, tomato skin, ashtray and cedar; the palate is tart and plummy with stronger/sweeter cedar oak, finishing with sweet red berries. At its best now, but should hold a few more years.
2012 Majella Cabernet Sauvignon, Coonawarra (screwcap):
14.5% alc. Dark blood red with a hint of purple. Beautifully perfumed, full of tea roses, pastilles and red liquorice, cedar and spice, the mid-palate with notably more flesh and less brawn than the 2010 vintage, finishing long and velvety. Absolutely gorgeous now, but it will keep and improve for decades – an absolute bargain that puts many pretentious pretenders to shame.
2010 Majella Cabernet Sauvignon, Coonawarra (screwcap):
14.5% alc. Inky red/black with a hint of purple. Quite closed at first, letting out little whiffs of inky blueberries, graphite, pastilles, cedar, spice, black tea and tea rose that gradually grow in the glass. The palate is huge and tarry with a massive mouthful of chalky tannin and acidity mid-palate, finishing earthy with black olive and grippy black tea tannins. It's brutal power and classic donut-profile remind me of the 1994 vintage in style; on this form it seems to be on the verge of closing down and shouldn't be approached again for a while.
2005 Majella Cabernet Sauvignon, Coonawarra (screwcap):
14.5% alc. Dark to almost inky red/garnet. Developing beautifully, full of capsicum, cedar, blackcurrant, black olive, soy, black liquorice, smoky bacon and umami; the palate's perfectly balanced, earthy and soft with velvety black tea tannins throughout its impressive length. An absolutely beautiful wine right now, but still has a good decade or two of enjoyment ahead.
2008 Majella Sparkling Shiraz (crown seal):
14.5% alc. Medium red with a good mousse and bead. This vintage has very good ripeness (notably less green than the 2004) with sweet raspberries, black olive, black liquorice and some leather, the palate moderately creamy with some menthol on the spicy finish. Drinking well, although I think it's at its best right now.
2010 Majella The Malleea, Coonawarra (screwcap):
14.5% alc. 55% Cabernet Sauvignon, 45% Shiraz. Dark to almost inky red/purple. Earthy, complex nose with blueberry, raspberry, black coal, liquorice, cedar and graphite; the palate's powerful and slow-building with the Shiraz flooding the mid-palate with both red and black fruits, a little tar (not as much as the straight Cabernet) and black olive on the very long, velvety finish. It's hard to look past those superb Cabernets, but in the end this had to get my WOTN vote.
Club Vote for Wine of the Night
:
Whites:
1st: 2005 Majella Cabernet Sauvignon – 11 votes
=2nd: 2010 Majella Cabernet Sauvignon - 3 votes
=2nd: 2010 Majella The Malleea - 3 votes
Cheers,
Ian