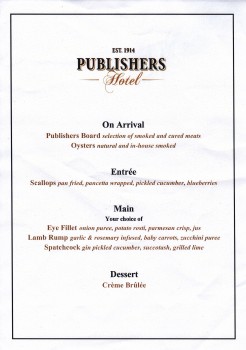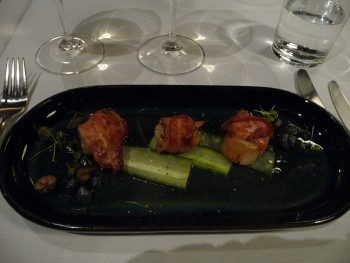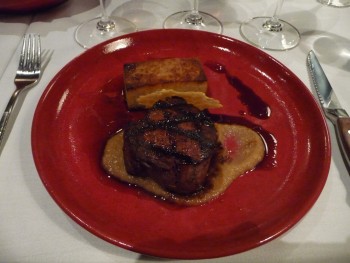 It's been a while since the last Adelaide Offline, so to start with we went with a very high standard to coincide with Jamie's visit. The food and service at Publisher's Hotel was top notch (although I have to admit I thought our deal was for a main with three meats served over three courses, not a choice of three mains?), definitely worth considering for future offlines. A huge thank you to everyone for the great experience and their generosity, and especially to Jeff for organising.
2002 Krug Champagne Vintage Brut (cork):
Pale straw with a good mousse and very fine bead. An initial burst of aldehyde on first whiff gives way to a young, tight bouquet with grapefruit, wet quartz, a little smoke and milk chocolate; the palate's just as dry and tight, long and crisp with a little more bread and fennel characters with breathing. Perfectly balanced for the long haul, cork withstanding – it's worth noting neither of the Krug corks looked particularly good tonight.
Krug Champagne Brut Rosé (cork):
Pale Salmon with a good mousse and very fine bead. Rich and broad with obvious bread/aldehyde, caramel and coffee characters matched with very round strawberry fruit, a startling contrast to the lean, tense 2002 Krug. I thought this was just as enjoyable, although some questioned if this was a slightly advanced/heat affected example; a great match for the in-house smoked oysters, while the 2002 Krug was perfect with the natural oysters with lemon.
1978 Domaine Jacques Prieur Montrachet (cork):
Medium amber. Heavily oxidised, sherried and dry but still (barely) alive, the palate a little more subtle and balanced than the nose with almond, tobacco and toasty, minerally characters. Curio value only.
1998 François Raveneau Chablis 1er Cru Butteaux (cork):
Medium straw. Still fresh and savoury, wool carpet, grapefruit, sugared biscuits, lemon rind and blossoms, the palate beautifully round and rich with a smoky, minerally finish. I love Great Chablis like this, it's just a pity it has become so hit and miss.
1994 Domaine Bruno Clair Corton-Charlemagne (cork):
Dark gold/light amber. Buttery and toasty, some popcorn with touches of bacon and ground paprika, the palate very spicy, rich and fat; at its peak, a great contrast to the Chablis, and a perfect match for the scallops wrapped in pancetta.
1973 Penfolds Grange Hermitage, South Australia (cork):
98% Shiraz, 2% Cabernet Sauvignon, sourced from the Kalimna Vineyard, Barossa Valley, Magill Estate, Modbury, and Coonawarra. Penfolds clinic 2014 bottle. Medium to very dark red/garnet. Smoky oak, raspberries and earth, vanilla, cocoa and a touch of pickle which has always been a feature of this vintage, relatively lightweight for Grange with a dry finish and more obvious bourbon oak with breathing. After an initial strong showing it faded quickly in the glass, but perhaps that was not surprising since this bottle had accidentally been triple decanted.
1978 Penfolds Grange Hermitage, South Australia (cork):
90% Shiraz, 10% Cabernet Sauvignon, sourced from the Kalimna Vineyard, Barossa Valley, Magill Estate, Modbury, Clare Valley and Coonawarra. Penfolds clinic 2014 bottle. Spectacular medium to very dark red/purple colour – this is 38 years old?! Seems young, juicy and powerful for its age, blueberry, blackberry, cocoa, crushed ants, vanilla pod and graphite, very long, velvety and grippy. A classic full-weight Grange with black fruits, lots of American oak and time on its side.
1980 Penfolds Grange Hermitage, South Australia (cork):
96% Shiraz, 4% Cabernet Sauvignon, sourced from the Kalimna Vineyard, Barossa Valley, Clare Valley, Magill Estate, McLaren Vale and Coonawarra. Medium to darkish red/garnet. An interesting contrast to the 1978 vintage, minty and exotic Dujon mustard characters with red raspberry fruits in comparison to black fruits; the palate is velvety, fat and tangy choc-cherries, the oak much more restrained, relatively approachable and near or at its peak right now.
1992 Henschke Hill Of Grace Shiraz, Eden Valley (cork):
Medium blood red. Sweet, spicy and jubey, raspberries, red jellies, becoming very minty with breathing; the palate is around medium-weight, relatively light, even for Hill of Grace, but is well balanced and long enough. A nice enough wine, but lacked the wow factor of many others tonight.
1994 Henschke Hill Of Grace Shiraz, Eden Valley (cork):
Medium to dark crimson/blood red. In contrast to the 1992 vintage this opens with powerful oak and black fruits compared to red, black liquorice, blackberry, cocoa, bitter chocolate, dill, truffle and aniseed. It's scale and swagger are initially impressive, but there is also dirty smell of barnyard that intensifies with breathing and eventually it becomes way too distracting for my liking. I always wanted to try the "vintage of the black ferments", according to some one of the most powerful Hills of Grace ever made, and I am glad to have finally crossed it off my list. Thanks Jamie.
1996 Penfolds Block 42 Kalimna Cabernet Sauvignon, Barossa Valley (cork):
Medium to very dark red. Lavish oak and ripe cabernet fruit in big Barossa style, black cherries, cassis, tobacco, dark chocolate, peppermint, earth and oil, the palate genuinely full-weight with no mid-palate hole and impossibly long. In a night of super reds this was well above the rest, and it's just a baby.
1999 Bodegas Vega-Sicilia Ribera del Duero Único (cork):
Bugger, horribly corked.
1998 Wendouree Shiraz, Clare Valley (cork):
A backup slotted in for the previous corked wine. Medium to dark garnet. Stocky and toasty at first, with rather sappy/charred oak ahead of the minty red berry fruit; it's a big wine for Wendouree in all respects, yet for some reason I was not as enamoured with it as everyone else.
1999 Château d'Yquem Sauternes (cork):
Medium amber/straw. Still showing some youthful whiffs of sulphur along with waves of botrytis-derived quince paste, marzipan, plastic, dried ginger, candied citrus, salted caramel and eventually peppermint; the palate's massive and incredibly long with gum-draining/mouthwatering acidity stopping it from being cloying, finishing with smoky/French vanilla. A superb wine, its complexity, weight and balance cannot be faulted, although part of me still has trouble justifying the hefty premium compared to the very best of the 1er Cru Sauternes.
1990 Trimbach Pinot Gris Sélection de Grains Nobles (cork):
Medium straw/amber. Right at its peak, honeyed with overripe banana, ginger and a touch of tealeaves, a solid sweet wine in its own right, but it's a tough act to follow d'Yquem!
1930 Seppelt Para Liqueur Port, Barossa Valley (cork):
Murky brown. Rich and hedonistic, and yet in contrast to the 100 year old Para there is a freshness and softness still there, Christmas pudding drenched in crème de cacao, espresso, tobacco and dark chocolate, all of which just lingers on, and on, and on. At one stage one of our hosts told me he went to the cellar to collect a bottle of red for the staff, walked back into the dining room and all he could smell was this magical elixir! A truly astonishing wine, and relatively speaking still ridiculously cheap at auction.
NV Morris of Rutherglen Old Premium Rare Liqueur Muscat 500ml (screwcap):
Very dark brown with an olive rim. Raisiny with fruitcake, dried dates and neutral spirit, a great fortified wine although not remotely close to the heavyweight division of the Para.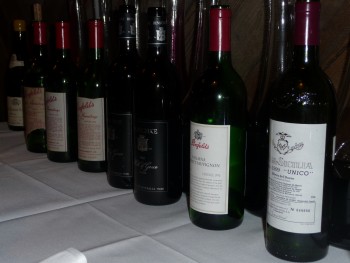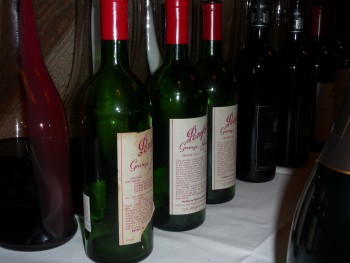 Cheers,
Ian